Dolley Madison: First Lady and Queen
by Catherine Allgor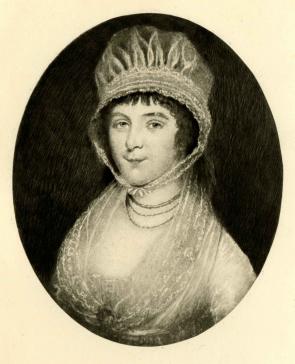 Whatever else you can say about Dolley Payne Todd Madison (1768–1849), she was famous. She was so well known and well regarded in her lifetime that, at her death in 1849, both houses of Congress adjourned, along with the Supreme Court, to join President Zachary Taylor, escorting her coffin in the largest funeral Washington, DC, had ever seen. Dolley's fame continued and grew after her death, as her image and name were used to sell everything from ice cream, snack cakes, and dishes to cigars and corsets. Historians of the early republic generally acknowledge that during James Madison's presidency (1809–1817) Dolley Madison laid the foundation for the role of what would become the unofficial office of "first lady." For more than a hundred years, she remained the first lady by which other presidential spouses were judged.
For modern Americans, though, the issue of her fame is puzzling. Why was she the most famous woman, maybe the most famous American, in the world? Looking at the historical sources only seems to deepen the mystery. Dolley Madison is best known for redecorating the White House; for being a hostess, giving great parties to which all were welcome; and for possessing a kind and generous personality. Such qualities and capacities seem, well, nice, but how are they important?
Contextualizing Dolley's career, however, supplies the answer to that puzzle. In short, Dolley was famous for precisely the same reason that other politicians garnered renown—she was powerful. And the source of her power lay in these arenas of sociability and female activity. What is missing is understanding the connection between female roles and political power. In fact, each of these three arenas of accomplishment—the redecorating, the parties, and use of her personality—represents a genre of her political work.
Let's start with the "redecoration" of the executive mansion. Dolley's efforts have been seen as a properly traditionally feminine act, an exercise in personal taste, featuring that most female of activities—shopping. Recent scholarship has shown, however, that this kind of house renovation belongs more in the tradition of castle-building and gentry home-construction than modern ideas of home as a private space. The construction of such private homes for public power was largely the province of men, such as George Washington and Thomas Jefferson, who presided over homes at Mount Vernon and Monticello, respectively. That James Madison turned this project over to Dolley is a demonstration of his trust in her expertise. Such houses, if well done, can have tremendous psychological power, and indeed, Dolley's manifestation of the president's house soon acquired a nickname—"the White House"—and became a symbol of the capital city.
But what Dolley did at 1600 Pennsylvania Avenue was less a redecoration than a restructuring. Looking at her correspondence before and after James Madison's inauguration in 1809, we can see what she and her collaborator, architect Benjamin Henry Latrobe, intended to do by how they did it. They did not expend much energy or money on the private chambers, but instead restructured the space into several sumptuous public rooms: a parlor where Dolley received callers, a dining room for her dinner parties, and a large gorgeous reception room—the Oval Room. Before her renovation project, there was no one space in a public building or a private home in the whole area that could accommodate all the members of the federal government, let alone their families and the local population.
Dolley needed that kind of space because she intended to bring all of these people together under the Madison roof. She began her presidential entertaining almost immediately after James's inauguration and set a record for numbers of parties, calls, and other social activities. To understand how the parties presided over by Dolley functioned we have to understand that for politics to happen, two spheres of activity are needed. The official sphere is the one we know well, that of the product of politics, the declaration, the legislation, the press release. The unofficial sphere is what many call "behind the scenes," where the process of politicking, the lobbying, the persuading, goes on. Unofficial spheres develop at social occasions and at homes, at events and locales that are women's province. So—especially in an era before political equality—the unofficial sphere was a place for women to politick.
Dolley Madison's most important unofficial spheres were the weekly drawing rooms, which quickly became known as "Mrs. Madison's Wednesday nights." Dolley's soirees were open to all, friends and enemies alike, people of all classes—official families, local gentry, visitors from across the country and the globe, and members of the diplomatic corps. Lured by the food, the music, and the dazzling setting, so many people attended that these occasions became known as "squeezes." More like modern cocktail parties than formal receptions, people moved freely, making connections, forming and re-forming groups, and mingling.
Dolley's drawing rooms had all the elements of a glamorous social event—music, dainty foods (including ice cream), a gorgeous setting, and beautifully attired guests on their best and most pleasing behavior. But these elements should not distract us from the political uses of the drawing room. We can understand all such uses as variations on the theme of "unity." James Madison's primary political goal was unity—not just of his party, the Republicans, but also of the country, including his political enemies, the Federalists. Bringing people together, finding a common ground, is the first step to unity. Dolley's drawing rooms were literally a bipartisan location. Attendance at a drawing room offered men who worked together the opportunity to further and deepen their relationships and brought together men from all the branches of government as well. The architecture of Washington, reflecting the fear of centralized power, kept the branches of government apart; on Wednesday nights, White House architecture brought people together. With the party elements and the presence of families signaling the unofficial atmosphere, official men could transcend the partisan political stances they felt obligated to take on the floors of Congress and in the press.
Out of the glare of the official spotlight and in the flickering candlelight of the drawing room, people politicked in many ways, including soliciting support for legislation, floating proposals, seeking patronage, and gathering and dispensing information. For the most part, people reacted positively to the drawing rooms; it is telling that those who did not still went. These events were indispensable to Washington business. Perhaps most importantly, under Dolley's watchful eye, the official men and their families began to learn to work together, to build a ruling class and the tools for what official men did not have a name for yet—bipartisanship. These tools would come in handy for what the United States would eventually become: a two-party democracy, a nation-state with a strong presidency.
Everyone went to the drawing rooms, everyone described them in letters to the folks back home, and they always talked about Dolley. It is important to regard all these descriptions as something beyond colorful "celebrity mentions"—they were a form of political analysis. Right from the start, Dolley personified the Madison administration; she was the "charismatic figure." Charismatic figures are larger-than-life personas who are able to convey psychological and emotional messages. The lack of bureaucracy and established structure in the federal government meant that the new Americans focused on personalities for affirmation and reassurance. Right after the Revolution, they used George Washington; during the contentious early republic, Dolley took his place. Dolley used her own self, writ large, to create an American queen around whom people could rally, a figure who radiated calm goodness. Her "Queen" dressed royally, or at least, as most Americans imagined royalty would dress. Arrayed in pink satin and ermine, with waving peacock feathers attached to her trademark turbans, Dolley ensured that she literally and figuratively dominated any room. Her gorgeous dress, lavish entertainments, and sense of ease transmitted messages of legitimacy, stability, and authority to new Americans and Europeans alike.
While people praised Dolley for her ensembles and her entertainments, they regarded most highly what they called her "good heart." She may have been a queen, but she was also, as one senator put it, "a queen of hearts."[1] Dolley was famous for being an extraordinary spirit, generous and kind. She made people feel special, and everyone marveled at Dolley's ability to never forget a name, a face, and a family pedigree. These qualities of empathy, warmth, and courteous consideration were Dolley's own, but she and James turned her personality into a tool of policy. She did not just open the White House doors to all, and step to the side. Dolley was always on the move at her drawing rooms, using her charm to defuse tension and discourage any contention that might crop up.
Having a place where people had to be on their best behavior in early Washington City was more than a convenience or a nicety. Though we tend to think of our politics as nasty and partisan, early republican political culture was the most violent in United States history. Slander and libel ran unchecked, as did actual physical violence. This was the era in which men beat each other with canes and shot each other over politics—and not just in the streets, but on the floors of Congress.
Why was the early national period so violent? Partly this was due to the high level of fear and anxiety. No one was sure that the republican experiment was going to work, that the union would hold. This was the era when "the United States of America" was plural; people would say, "the United States of America are." But the real problem was that the US was not set up to be ruled by a two-party system. These were people who believed that only one point of view should prevail, that only one group should rule, and that any dissension was treason. But two different factions believed this. So the Republicans and the Federalists were fighting to the death, even as they were building a two-party system, the very kind of system that fosters democracy. That's why Dolley's goal of bringing everyone into the room and making them behave and interact as human beings with families, was not just nice, it was crucial.
All of Dolley's efforts to unify the capital city and federal government only intensified when the United States declared war on Great Britain in 1812. Wartime Washington was a bustling place, and Dolley held more parties than ever at the White House, which was emerging as a power center for the nation. While she had always personified the Madison administration, now Dolley seemed to personify American patriotism. Dolley strove to transmit messages of reassurance, and, when it was clear that the capital city was to be invaded, she tried to hold the town together. Finally, when Dolley was forced to flee, she preserved the portrait of George Washington that had hung in her dining room, knowing what it would mean to the American public if it were captured. Perhaps the greatest proof of her efforts came in the wake of Washington's darkest day. Dolley had made the capital such an important symbol to Americans that when the British burned the White House and the government buildings in August 1814, the American people were outraged. They pulled together to support the unpopular war, and legislation calling for relocation of the capital to New York or Philadelphia failed to pass Congress.
Looking back at Dolley's career, we can see why historians call her "the first 'first lady.'" She began the tradition of the presidential spouse's relationship with the White House. In 1961, Jacqueline Bouvier Kennedy directly referenced Dolley in her own restoration of the executive mansion. Dolley's use of the unofficial sphere of politics modeled the power of society for future first ladies. Mary Todd Lincoln's tone-deaf use of the unofficial sphere provides a backhanded acknowledgement of that power. Finally, Dolley's successful personifying as the charismatic figure has offered other political women the chance to be the face of a husband's administration. Not everyone has the gift to be a charismatic figure, but the first ladies who have done so successfully—including Jacqueline Bouvier Kennedy and Eleanor Roosevelt—remain some of our most beloved.
Dolley Madison might have been more famous in the past than she is now, but that doesn't mean she has nothing to offer us. Dolley brought love and empathy into political discourse and in doing so, she modeled for us a political behavior that allowed the participants to see each other as full human beings. Her model of bipartisan process—one that emphasized cooperation over coercion, that built bridges instead of bunkers, with an emphasis on civility and empathy—proved necessary for building a modern, democratic nation-state. Dolley's work aided the goal of unity, leading to a day when people called the United States not by the plural, but the singular: "The United States of America is."
The men of her day might not have been able to envision bipartisanship, but Dolley could. For the men, politics was an all-or-nothing, zero-sum activity, where they regularly fought and murdered each other over ideologies. That Dolley could envision a politics of cooperation and power sharing marks her as the most modern politician of her time. This model is her lasting gift to the nation.
---
[1] Samuel Latham Mitchill to Catharine Akerly Mitchill, January 3, 1802, Catharine Akerly Mitchell Papers, Manuscript Division, Library of Congress.
---
Catherine Allgor is professor of history at the University of California at Riverside. Her biography A Perfect Union: Dolley Madison and the Creation of the American Nation (2006) was a finalist for the George Washington Prize. Her most recent book is The Queen of America: Mary Cutts's Life of Dolley Madison (2012).
Make Gilder Lehrman your Home for History
---
Already have an account?
Please click here to login and access this page.
How to subscribe
Click here to get a free subscription if you are a K-12 educator or student, and here for more information on the Affiliate School Program, which provides even more benefits.
Otherwise, click here for information on a paid subscription for those who are not K-12 educators or students.
Make Gilder Lehrman your Home for History
---
Become an Affiliate School to have free access to the Gilder Lehrman site and all its features.
Click here to start your Affiliate School application today! You will have free access while your application is being processed.
Individual K-12 educators and students can also get a free subscription to the site by making a site account with a school-affiliated email address. Click here to do so now!
Make Gilder Lehrman your Home for History
---
Why Gilder Lehrman?
Your subscription grants you access to archives of rare historical documents, lectures by top historians, and a wealth of original historical material, while also helping to support history education in schools nationwide. Click here to see the kinds of historical resources to which you'll have access and here to read more about the Institute's educational programs.
Individual subscription: $25
Click here to sign up for an individual subscription to the Gilder Lehrman site.
Make Gilder Lehrman your Home for History
---
Upgrade your Account
We're sorry, but it looks as though you do not have access to the full Gilder Lehrman site.
All K-12 educators receive free subscriptions to the Gilder Lehrman site, and our Affiliate School members gain even more benefits!
Metadata